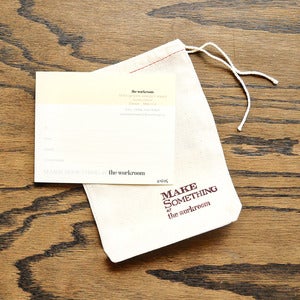 $

1.00
the workroom offers gift cards in any denomination. Each gift card comes in a hand stamped muslin bag. The gift cards are redeemable for classes, fabric, rentals, notions or books.
Gift cards can be sent directly to the recipient, along with a personal note. Please indicate the recipient's mailing details and any message you would like us to include.
To indicate the dollar amount for the gift card, simply put the exact dollar amount in the quantity box. (1 = $1, 10 = $10, 35 = $35, etc)
Please Note : Gift cards can be redeemed at our store location on Queen Street West. This gift card can not be redeemed directly through our online shop. Please contact us with your gift card number to arrange an order of any items through the online shop via email or telephone.
Gift Cards are a NO TAX item, but this system automatically will add your local tax. We will refund any tax paid when we process your order. Thanks for your understanding.